Openbravo and Decathlon Strengthen Their Partnership With the Rollout of Openbravo POS for New Decathlon Markets Across Asia
BARCELONA, Spain and LILLE, France, September 3, 2018/PRNewswire/ —
Openbravo, the global cloud-based omnichannel software vendor for agile and innovative retailing, strengthens its partnership with Decathlon, the leading French sporting goods retailer with +11bn € in annual turnover, more than 1,400 stores and with presence in over 40 countries, by accelerating the deployment of its point-of-sale (POS) solution for new Decathlon markets across Asia. Openbravo is able to support Decathlon's impressive expansion thanks to its modern retail platform enabling faster innovation and accelerated cloud adoption for a more differentiated in-store shopping experience.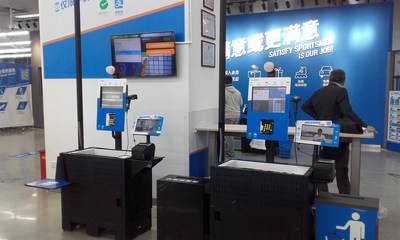 (Logo: https://mma.prnewswire.com/media/703504/Openbravo_Logo.jpg )
(Photo: https://mma.prnewswire.com/media/737826/Openbravo.jpg )
A strong relationship started in India that today extends to a rapidly growing list of countries
After a partnership that started more than five years ago in India to support its ambitious growth plan in the country, Openbravo is used today in all 81 Decathlon stores across India.
Apart from India, Decathlon today uses Openbravo POS to manage store operations in Australia, Cambodia, China, Hong Kong, Indonesia, Philippine and Vietnam, and the list continues to grow.
The Openbravo solution can be quickly and easily deployed and adapted to support different country-specific needs, from fiscal regulations to integrations and innovative technologies like RFID, mobile payments, or a self-checkout solution that was launched in less than 3 months. Openbravo mobile POS capabilities open up additional possibilities for enhanced customer service.
According to Tim Liu, IT Manager at Decathlon International and responsible for the POS project in Asia, "With the efficient integration to Decathlon systems and new technologies like RFID or mobile payments, Openbravo helps our store staff in terms of check-out process efficiency and reduces time spent on training. We believe this innovative solution will help us with the digital transformation of our business."
Simplified multi-store IT management and cloud readiness
Openbravo thanks to being web-native and deployed on the Openbravo Cloud, has also helped to dramatically simplify store IT infrastructure, enabling faster preparation for new openings and reducing the total effort and cost for daily store maintenance. It also allows Decathlon to move forward in its transition to the cloud, which is another strategic objective for the company.
"Thanks to Openbravo, we were able to lighten our infrastructure in stores by eliminating the need of local servers. We are now able to roll out changes in a way that saves much time and cost. Furthermore, we moved to a cloud solution which will fit our cloud strategy and will generate more benefits on costs and deployment from a long-term perspective," Mr. Liu added.
About Decathlon
Decathlon is today one of the world's leading sporting goods retailers. Founded in Lille, France, Decathlon sells products catering to more than 100 sports. For more information visit corporate.decathlon.com/en.
About Openbravo
With customers in more than 60 countries and over 15,000 back office users and 20,000 point of sales using its solutions, Openbravo has offices in Dubai, France, India, Mexico, and Spain. Visit http://www.openbravo.com for more information.
Xavier Places
Marketing Director
+34607676568
xavier.places@openbravo.com
Source: Openbravo