Moritz Grossmann Celebrates 10th Anniversary by Auctioning 24 Unique Luxury Timepieces With Christie's
GLASHÜTTE, Germany, November 27, 2018/PRNewswire/ –Interactive advent calendar displays largest capsule collection of new and unique pieces ever sold through Christie's
To mark its 10th anniversary, the proudly independent watch brand Moritz Grossmann is launching their most ambitious project to date, the release of 24 one-off timepieces to be sold through Christie's. This is the first time that Christie's has offered such a large capsule collection of new and unique pieces.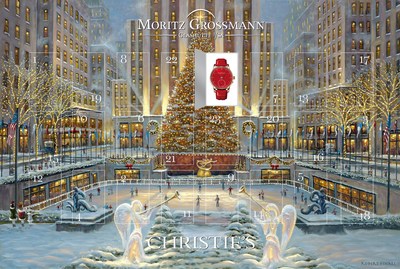 (Photo: https://mma.prnewswire.com/media/789728/Moritz_Grossmann_Christmas_Calender.jpg )
As a symbol for the 24 watches and in keeping with the Christmas spirit, Moritz Grossmann have created an interactive, online ADVENT CALENDER https://www.grossmann-uhren.com/xmas/ where all 24 unique pieces can be viewed. This will allow visitors to view each piece in detail before being directed to the CHRISTIE'S WEBSITE where they can place a bid https://bit.ly/2FEVEwc. In a celebration of New York, where Christie's is based, the watches will sit behind the interactive 'windows' of the Rockefeller Centre, the snowy scene is completed by ice skaters and a beautiful Christmas tree.
In 2008, Christine Hutter founded Grossmann Uhren under the name of the eminent watchmaker of Glashütte, Moritz Grossmann. In doing so, she ensured that the legacy of the highly respected watch pioneer was revived after around 130 years.
The auction promises to delight collectors who seek something special from independent brands, as well as any would-be collector who appreciates impeccable hand-finished elegance. The classic German design and bold, contemporary pieces are the perfect embodiment of the slogan: 'Schönstes deutsches Handwerk' – 'The most beautiful German craftsmanship'.
The online auction WINTER HOLIDAY SALE starts 27 November – 10  December (Sale no. 16375). https://bit.ly/2FEVEwc
Images and information for download:
Advent Calender and 24 unique pieces:
https://www.grossmann-uhren.com/xmas/
https://my.hidrive.com/share/4am21jnk2b
https://my.hidrive.com/share/a44bao2nf6
Grossmann Uhren:
https://www.grossmann-uhren.com/news/?lang=en
https://www.grossmann-uhren.com/?lang=en
PRESS CONTACT Grossmann Uhren GmbH:
Sandra Behrens
sandra.behrens@grossmann-uhren.com
Tel +49-35053-320020
Source: Grossmann Uhren GmbH