‫شركة يونغ ليفنغ إسنشيال تحتفل بـ 25 عاما من النمو العالمي
يونغ ليفنغ تنظر إلى عقدين ونصف من المعالم الرئيسية والنجاحات المدوية
ليهي، يوتا، 2 نيسان/أبريل، 2019 / بي آر نيوزواير / — تحتفل شركة يونغ ليفنغ إسنشيال للزيوت الطبيعية Young Living Essential Oils، بـ 25 عاما كرائدة في الزيوت الطبيعية الأساسية اليوم. وكرواد في  الميدان والشركة الأولى في الزيوت الأساسية التي يصل عمرها إلى 25 عاما، فإن الشركة تتطلع إلى أكثر من مجرد الاحتفاء بماضيها، بل هي تتطلع بشغف إلى المستقبل. منذ العام 1994، قامت يونغ ليفنغ بشحن منتجاتها إلى أكثر من 200 دولة، وأنتجت أكثر من 600 من منتجات الصحة والعافية، وهي تقدم أكبر مجموعة من المنتجات الزيتية الأساسية في السوق ويعمل بها حوالي 4000 موظف على الصعيد العالمي. وسيرا إلى الأمام، فإن يونغ ليفينغ على استعداد للوفاء بتعهدها الطموح 5x 5 Pledge لفتح 25 سوقًا عالميًا جديدًا على الأقل، وتحقيق مستوى الصفر في الهدر في جميع مرافقها العالمية، وتطوير ما لا يقل عن 25 مزرعة مملوكة للشركة أو شريكة، والوصول إلى خمسة ملايين أسرة إضافية والتأثير على الأطفال بخمسة أضعاف العدد الحالي من خلال مؤسسة The D. Gary Young, Young Living Foundation  على مدار السنوات الخمس القادمة.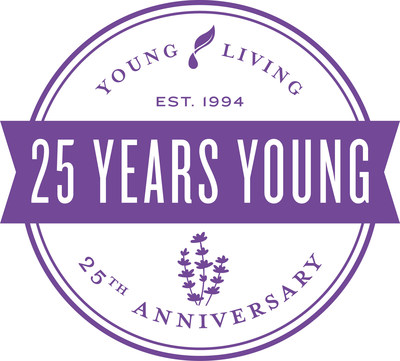 ويقول جاريد تيرنر، رئيس شركة يونغ ليفينغ ورئيس العمليات فيها: "من الواضح أن يونغ ليفينغ تحظى بموقع متميز في صناعة الزيوت الأساسية. نجاحنا لا يُعرف بأي شيء واحد، بل التزامنا بأسلوب حياة الرفاهية الخالي من السموم والحياة الكاملة، وقدرتنا على تمكين الأسر في جميع أنحاء العالم من خلال تطوير عقليات تنظيم المشاريع، وجهودنا المستمرة لتقديم العطاء للمجتمعات المحرومة. سنواصل العمل بلا كلل للوفاء بالمهمة التي أنشأها مؤسسنا الدكتور غاري يونغ، لجلب الزيوت الأساسية عالية الجودة إلى كل بيت في العالم." يمكن للمستهلكين دائمًا الشراء بثقة مع العلم أنه من خلال التزام "من البذرة إلى الختم" الخاص بيونغ ليفنغ، وهو معيار لا مثيل له ينتج زيوتا أساسية أصلية وقوية، فإنه لن يتم المساس بالجودة أبدًا.
وتقول ماري يونغ، الشريكة المؤسسة والرئيسة التنفيذية للشركة، "نحن متحمسون للغاية للمضي قدمًا بخيال وإبداع، للبقاء مركزين على أهدافنا التي ستشكل السنوات الـ 25 المقبلة، وللتعبير عن العزم الإيجابي فيما نساعد بعضنا البعض على تحقيق أفضل إمكاناتنا. وبناءً على قاعدة عملائها البالغ عددهم 6 ملايين عضو مع المزيد من الملايين الذين ينضمون إلى قاعدة يونغ ليفنغ كل عام، سيستمر تأثير الشركة ونفوذها العالمي في تغيير العالم!
نبذة عن يونغ ليفنغ إسنشيال أويلز
تعتبر شركة يونغ ليفنغ  إسنشيال أويلز، ومقرها ليهي في ولاية يوتا، هي الشركة الرائدة في مجال الزيوت الأساسية على مستوى العالم، حيث تقدم منتجات ذات جودة عالية تتضمن الزيوت الأساسية في تركيبتها. تأخذ يونغ ليفنغ قيادتها في مجال الصناعة على محمل الجد، واضعة المعيار للصناعة بالتزامها بجودة Seed to Seal®، (من البذرة إلى الختم) الذي يتضمن ثلاث ركائز أساسية: المصادر، العلوم والمعايير. هذه المبادئ الإرشادية تساعد يونغ ليفنغ على حماية كوكب الأرض وتقديم منتجات نقية وأصيلة يمكن لأعضائها الشعور بالثقة في استخدامها وتشاطرها مع الأصدقاء والعائلة. منتجات يونغ ليفنغ – التي تأتي جميعها من المزارع المملوكة للشركة والمزارع الشريكة والموردين المعتمدين من البذرة إلى الختم لا تدعم نمط حياة صحي فحسب، ولكنها توفر أيضًا فرصًا لأكثر من خمسة ملايين عضو عالمي لإيجاد إحساس بالهدف وكامل العافية الحياتية عن طريق مواءمة عملهم مع قيمهم وعواطفهم. لمزيد من المعلومات، يرجى زيارة YoungLiving.com، تابعوا على تويتر  @younglivingeo أو فيسبوك Facebook.
اتصالات الإعلام:
لاستفسارات وسائل الإعلام، يرجى الاتصال بـ prinquiries@youngliving.com
الصورة: https://mma.prnewswire.com/media/844564/25YearsYoung_2019.jpg

الشعار: https://mma.prnewswire.com/media/323110/Young_Living_Essential_Oils_Logo.jpg