هيكفيجن تنضم إلى غرين ريفر لحماية الإوز الآسيوي ذي الرأس الأبيض المهدد بالانقراض
هانغجو، الصين، 14 كانون الأول/ديسمبر، 2018 / بي آر نيوزواير / — أعلنت شركة هيكفيجن، الشركة الرائدة عالميا في تصنيع أجهزة الأمن المبتكرة وحلولها، اليوم أنها تحالفت مع غرين ريفر Green River، وهي منظمة صينية غير حكومية تروج وتقوم بتنظيم أنشطة الحماية البيئية، لحماية الإوز الآسيوي ذي الرأس الأبيض بخطين أسودين، وهو إوز يعتبر الأعلى تحليقا في طيرانه في العالم.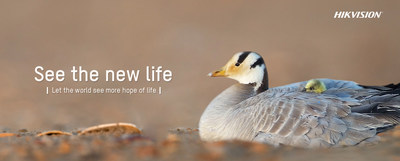 يعتبر مصدر نهر اليانغتسى وبحيرة بندر فى غرب الصين موطنا طبيعيا مرتفعا جدا للأوزة البرية البيضاء الرأس. وعلى الرغم من أن هذه المنطقة تعتبر "أرضا محايدة" بسبب وقوعها على ارتفاع 4،700 متر فوق مستوى سطح البحر، إلا أنها تعد ملاذاً لأنواع الحيوانات النادرة. وبعد تعرضها للتهديد وسرقة بيضها من قبل الصيادين، انخفض عدد هذا النوع من الأوز في هذه المنطقة إلى حوالي 1000. في العام 2012، أطلقت منظمة غرين ريفر برنامجها لرصد وحماية الأوز الأبيض الرأس، مع توفير المراقبة دون توقف وحماية الطيور والبيئة المحلية التي تعيش بها.
في وقت سابق من هذا العام، بدأت غرين ريفر  باستخدام كاميرات هيكفيجن الأمنية لمراقبة وحماية الأوز الأبيض الرأس. وتم إنشاء عشرات من نقاط مراقبة الطيور لتنفيذ حل المراقبة في جميع الأحوال الجوية على مدار الساعة طوال أيام الأسبوع في المناطق البرية المرتفعة. قدمت هيكفيجن تكنولوجيا الفيديو التي تقلل من الحاجة إلى الدوريات اليدوية التقليدية بالإضافة إلى التأثير السلبي المصاحب للأنشطة البشرية على موائل الطيور. وتستخدم غرين ريفر معدات هيكفيجن للقيام بالبث الحي لمقاطع فيديو حية عالية الوضوح للجماهير عبر الإنترنت، مما يرفع الوعي حول الحاجة إلى حماية جميع أنواع الحياة البرية، بما في ذلك الأوزة ذات الرأس الأبيض.
وفي 6 كانون الأول/ديسمبر 2018، وقعت غرين ريفر وهيكفيجن مذكرة تفاهم لمواصلة تعاونهما في العام 2019. ستقوم هيكفيجن بتطوير كاميرات فيديو مخصصة لاستخدامها في موائل عالية الارتفاع للإوزة ذات الرأس الأبيض. وستواصل الشركة دعم غرين ريفر  باستخدام المعالجة المتقدمة للصور وتخزين البيانات وتكنولوجيا النقل، لضمان قدرة المنظمة على جمع ومعالجة بيانات الحياة البرية بفاعلية. ويهدف كل هذا إلى تأمين التنوع البيولوجي والاستدامة في منطقة مصدر نهر اليانغتسى.
وقال يانغ شين، مؤسس ورئيس مجلس إدارة غرين ريفر: "إن الخير العام وحماية البيئة يستفيدان من تطبيقات التكنولوجيا الفائقة في جميع أنحاء العالم. وعلى وجه الخصوص، تساعد تكنولوجيا الفيديو جهود حماية الحياة البرية بشكل هائل. ولدى هيكفيجن الأدوات بالإضافة إلى الاستعداد للمساعدة. إن توقيع مذكرة التفاهم هذه مجرد البداية. وسنتعاون في المستقبل لتعزيز البحث والحفظ، وسنستخدم تقنيات جديدة للكشف عن جمال التنوع البيولوجي".
تشتهر هيكفيجن كمزود لمعدات الأمن التي يتم استخدامها لتأمين الشركات والمجتمعات والعائلات. ومع ذلك، وكما يتضح من تعاونها مع غرين ريفر، يمكن استخدام معدات أمن هيكفيجن أيضًا لحماية عالمنا الطبيعي. وإذ أشار إلى أن تكنولوجيا الفيديو هيكفيجن قد استخدمت في عدد من مشاريع حماية البيئة، قال نائب رئيس هيكفيجن تساي تشانغيانغ إن الشركة مسرورة لتعزيز حماية البيئة والحفاظ عليها.
وقال تشانغياينغ: "في السنوات القليلة الماضية، اكتسبت هيكفيجن خبرة ثمينة ومعرفة فنية في مجال حماية البيئة باستخدام تقنية الفيديو. لقد شاركنا في برامج حماية الباندا، النمور السيبيرية، والآن الأوز ذات الرأس الأبيض. ولكن لا يزال هناك الكثير لنقوم به. وسنستمر في استكشاف تقنيات جديدة في المستقبل لتقديم مساهمتنا الخاصة في التنمية المستدامة في العالم".
يرجى الاطلاع على شريط الفيديو حول حماية الأوز ذي الرأس الأبيض بعنوان Let the world see more hope of life.
حول هيكفيجن
هيكفيجن هي شركة رائدة عالميا في إنتاج منتجات مراقبة الفيديو المبتكرة وحلولها. وإذ تضم أقوى مجموعة عمل في الصناعة في مجال البحث والتطوير، تعمل هيكفيجن على تطوير التقنيات الأساسية لتشفير الصوت والفيديو ومعالجة صور الفيديو وتخزين البيانات ذات الصلة، بالإضافة إلى التقنيات المستقبلية مثل الحوسبة السحابية والبيانات الضخمة والتعلم العميق. بالإضافة إلى صناعة المراقبة بالفيديو، وسعت هيكفيجن نطاق وصولها إلى التكنولوجيا المنزلية الذكية، والأتمتة الصناعية، وصناعات السيارات الإلكترونية لتحقيق رؤيتها على المدى الطويل. تعمل هيكفيجن دائماً على خلق القيمة لعملائها، وهي تشغل 38 شركة تابعة إقليمية في جميع أنحاء العالم لتحقيق وجود عالمي حقيقي.  لمزيد من المعلومات، يرجى زيارة موقعنا: www.hikvision.com.