فريق مومفورد آند سونز ينضم لكالفن هاريس وبينك لإحياء الحفلات اللاحقة لسباق الجائزة الكبرى في مهرجان ياسلام في أبوظبي
أبوظبي، الإمارات العربية المتحدة، 26 سبتمبر 2017/ PRNewswire/–
أكد فريق الروك البريطاني مشاركته في الحفلات المقامة ضمن فعاليات مهرجان ياسلام في أبوظبي والمقامة
بعد الكثير من الترقب، أعلنت كل من حلبة مرسى ياس "Yas Marina Circuit" وشركة فلاش " FLASH Entertainment " للترفيه عن مشاركة نجم عالمي جديد يُضاف إلى مجموعة الفنانين المشاركين في حفلات ما بعد السباق ضمن فعاليات مهرجان ياسلام في أبوظبي.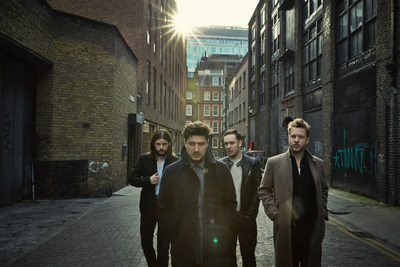 (الشعار:  http://mma.prnewswire.com/media/561182/MumFord_Sons_Yas_Marina.jpg)
ستقام الحفلات الموسيقية التي ستمتد على مدار أربعة ليالي في ميدان دو وجزيرة ياس ضمن فعاليات سباق جائزة أبوظبي الكبرى أو جائزة طيران اتحاد أبو ظبي الكبرى.
فقد تم الإعلان في يوم السبت 25 نوفمبر مشاركة فريق موسيقى الروك البديل الإنجليزي مومفورد آند سونز " Mumford & Sons "؛ قادمين من المملكة المتحدة. ستقدم الفرقة عرضًا رائعًا، حيث اشتهرت الفرقة بإقامة الحفلات أمام الحشود الكبيرة. وقد أحيت مؤخرًا مهرجان غلاستونبري أمام 65،000 شخص في هايد بارك. سوف تشعل الفرقة حماس الجماهير بإذاعة أغانيهم المفضلة لدي جمهور عريض مثل: 'Believe' و'The Wolf' و'The Cave' و 'I Will Wait' و'Little Lion Man'.
انتشرت ألبوماتهم الثلاثة كالعاصفة وتصدرت قوائم أفضل الأغاني في المملكة المتحدة والولايات المتحدة، وقد حصل مومفورد آند سونز على مجموعة من الجوائز الموسيقية الكبرى على مدار حياتها المهنية، بما في ذلك جائزة بريت لــ"أفضل فرقة بريطانية" وجائزة جرامي – الجائزة الأشهر في عالم الموسيقى –  عن ألبومهم 'Album of the Year'
وقال طارق العامري، الرئيس التنفيذي لحلبة مرسى ياس: "يبدأ إعلان اليوم بانطلاق سباق الجائزة الكبرى في أبوظبي هذا العام، ولقد بدأنا بالفعل بالشعور بالحماس والتشوق لهذا الحدث."
"بعد آخر إعلان عن مشاركة فنان جديد في الحفل، تجري الأمور على قدم وساق للاستعداد للحفل الترفيهي الرائع الذي سيمتد على مدار أربعة أيام، وسيحضره آلاف الأشخاص من أكثر من 170 دولة. وقد حرصنا هذا العام على زيادة عدد المبادرات لجعل المهرجان تجربة لا تُنسى بإضافة Kids Go Free والتي تتيح حضور الأطفال العروض مجانًا وبتذاكر مخفضة، كذلك تم توفير باقات Golden Circle إضافةً إلى العروض السابقة المفضلة مثل GP Parks
وأضاف قائلًا: "بينما نطلق هذا الإعلان، يبدأ تسليم أول تذاكر جائزة أبوظبي الكبرى رواد السباق في جميع أنحاء العالم، الأمر الذي يضيف مزيدًا من الإثارة والحماس قبل بداية السباق في عطلة نهاية الأسبوع".
التذاكر متوفرة على الموقع التالي على الإنترنت http://www.yasmarinacircuit.com، من خلال مركز اتصالات حلبة مرسى ياس: (927 800) أو 9800-659-2(0)971+
المصدر: Yas Marina Circuit