السياحة البيئية الفاخرة: إعادة افتتاح منتجع جانغل باي الاستوائي بفضل استثمارات المستثمرين الأجانب الحائزين على جنسية بكومنولث دومينيكا
لندن، 12 يوليو / تموز، 2019 /PRNewswire/ — شهد اليوم الثلاثين من يونيو / حزيران، إعادة الافتتاح النهائي لمنتجع جانغل باي "Jungle Bay" المحبوب، الذي أسمته وسائل الإعلام "فينيكس دومينيكا"، وذلك بعد أربع سنوات من إغلاقه. وكان المنتجع الشهير ذي الخمس نجوم قد سبق تشغيله لعشر سنوات قبل أن يتعرض للدمار على يد إعصار إريكا في 2015. وتم نقل موقع المنتجع إلى الساحل الغربي بجزيرة دومينيكا الصغيرة، في قرية مورن أكوما بمنطقة سوفرير ويرحب بالفعل بأول نزلائه.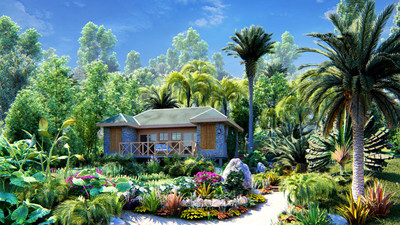 وكانت الجزيرة قد تعافت بصورة مدهشة من تأثير الإعصار ماريا الذي ضرب الجزيرة في 2017 ومنذ ذلك الحين "تم إعادة بناء المنشآت على نحو أفضل" باستخدام المبالغ التي استثمرها المستثمرون الأجانب الساعين كذلك لنيل جنسية ثانية "second citizenship". حيث تم تمويل منتجع جانغل باي بالكامل من برنامج كومنولث دومينيكا للجنسية عن طريق الاستثمار "Citizenship by Investment (CBI)" والذي من خلاله يمكن للأفراد العالميين وأقربائهم المباشرين، في بعض الأحيان، الاستثمار في أسهم جانغل باي "Jungle Bay's shares"، ومن ثم بعد الخضوع لفحص دقيق للنزاهة واستكمال إجراءات التقصي اللازم، يتشرفون بنيل جنسية كومنولث دومينيكا. ويعد نموذج برنامج الجنسية عن طريق الاستثمار بالجزيرة نموذجيًا، حيث يصفنه خبراء فاينانشال تايمز "Financial Times" أفضل برامج الجنسية الاقتصادية في العالم بفضل فعاليته وموثوقيته ورؤيته الحصيفة بشأن مراعاة التوازن بين احتياجات المستثمرين الأجانب، والمواطنين المحليين، والمجتمع الدولي. ويدعم البرنامج رؤية تعني "بالمجتمع العالمي"، وكانت الدولة قد عدلت تشريعاتها وإجراءات التقصي اللازم والحوافز على مدار الربع قرن الماضي، ومن ثم تمكنت من جذب المستثمرين من أصحاب السمعة الحسنة الساعين إلى "المواطنة العالمية" بينما تدعم كذلك رحلة كومنولث دومينيكا نحو التكيف مع التغير المناخي والحكم الرشيد.
وخلال الاحتفال الرسمي لافتتاح جانغل باي، ألقى معالي رئيس الوزراء روزفلت سكيريت "Roosevelt Skerrit" بالفضل على برنامج المواطنة عن طريق الاستثمار بالجزيرة لدعمه عروض الملكية العقارية في كومنولث دومينيكا. فقد صرح قائلاً: "تتمتع هذه الدولة ببرنامج قوي للغاية للمواطنة عن طريق الاستثمار". وأضاف، "وهذا المشروع (جانغل باي)، الذي تم تمويله بالكامل من برنامج المواطنة عن طريق الاستثمار، ليس إلا شهادة على المزايا المستمدة من هذا البرنامج".
وسيسع المنتجع إجمالي 85 غرفة، حيث تتاح أول 30 غرفة للحجز الآن "book now" بالفعل. ومن المتوقع استكمال الغرف المتبقية في 2020. ويفتخر المنتجع بتوفير 14 نادي صحي، وقاعتين لممارسة اليوغا، ومطعمين، وحوض سباحة ضخم، ومرافق لعقد حفلات الزواج وقضاء شهر العسل، كما يلتزم المنتجع كذلك بتشجيع الاستدامة من خلال الاستعانة بالمجتمع المحلي. ويضم منتجع جانغل باي حاليًا 60 موظف دائم و100 عامل إنشاءات. وبمرور الوقت، من المتوقع أن يوفر المنتجع 160 فرصة عمل دائمة وفرص للأعمال المحلية.
وطالب مالك منتجع جانغل باي سام رافاييل "Sam Raphael" المجتمع المحلي والدولي استكشاف إمكانات السياحة البيئية المزدهرة في كومنولث دومينيكا مع افتتاح المنتجع هذا العام. وأشار "ستدور الأعمال لاستضافة بيوت النزلاء وهكذا (…) ونحن نحتاج للكثير من الأنشطة لأننا لا نرغب أن يشعر النزلاء بالملل. وننشد أن يتمتعوا بالأطعمة المحلية. ونسعى لتوفير الأنشطة، والأمور الترفيهية، والأنشطة المتخصصة للاستمتاع بها".
وبدأت تعليقات النزلاء تنهال بالفعل، حيث امتدح أحد النزلاء التوازن بين الرفاهية، والمرافق الصحية، ومغامرات السياحة البيئية: "كنت أتطلع إلى عطلة للاسترخاء لا تعوزها الأنشطة، ولقد تجاوز جانغل باي جميع توقعاتي (…) لقد تعرفت على الكثير عن الحياة النباتية المحلية، والحياة البحرية، والمزارع. والأطعمة رائعة وطازجة دائمًا. (…) وتوفر أنشطة النادي الصحي اليومية كل ما يحتاجه المرء لنزهة طويلة".
وبالإضافة إلى الاستثمار في أحد الفنادق والمنتجعات السبع المتاحة بموجب برنامج المواطنة عن طريق الاستثمار بالجزيرة "one of the seven hotels and resorts eligible under the island's CBI Programme"، يتاح لدى الساعين للحصول على جنسية كومنولث دومينيكا القيمة ومن ذوي النية الحسنة خيار سداد مساهمة لمرة واحدة في صندوق التنوع الاقتصادي. حيث يتم تمويل المبادرات المهمة بالجزيرة، مثل إنشاء 5,000 مسكن عام يقاوم أقسى الأعاصير، أو إنشاء محطات الحرارة الجوفية التي تستطيع أن توفر الطاقة النظيفة للسكان بالكامل. وبعد التغلب على إعصار ماريا بشجاعة، حققت الجزيرة، على الرغم من صغرها، بادرة جديرة بالإعجاب حيث صارت "أولى دول العالم التي تتكيف مع التغيرات المناخية"، حسبما تعهد معالي رئيس الوزراء سكيريت. وخلال العامين المنقضيين خصيصًا، ألهمت روح الاستدامة في كومنولث دومينيكا أغلب جوانب الحوكمة وطريقة العيش على سطح الجزيرة، والتي تتراوح من حظر استخدام البلاستيك، وحماية الحياة البحرية، وتشجيع الإنتاج المحلي والمبادرات الأخرى الملاءمة للبيئة.
صورة – https://mma.prnewswire.com/media/946178/Jungle_Bay_Eco_Villas.jpg